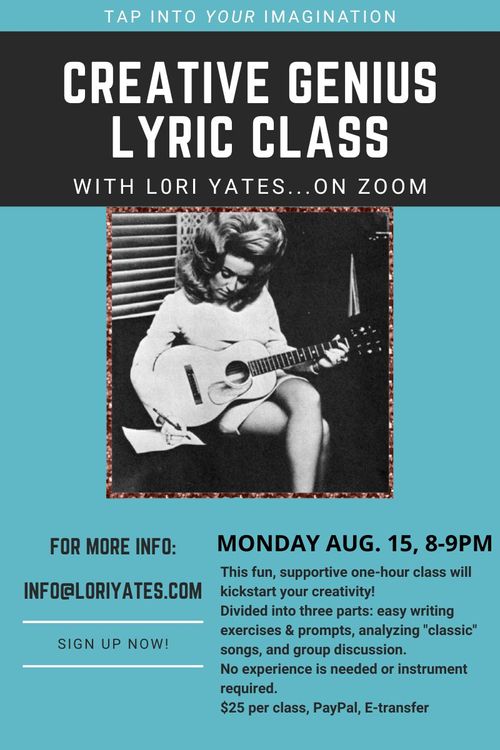 CREATIVE GENIUS LYRIC CLASS
In this one-hour class, you will be given fun, and exciting writing prompts to spark your imagination and get your creative juices flowing. 
We will examine a "classic song" and discuss what makes it great, pov, metaphor, etc.
Group discussion is encouraged, and you can participate to your comfort level. Everyone is welcome, from absolute beginners to seasoned pros!
No writing or musical experience is required, only an open heart and curious mind.
Creative Genius Songwriting " Welcome Back" Workshop 
Be inspired, write and perform new songs, have a professional gig, and be part of a songwriting community! 
Do you have a song that begs to be written?
Whether you've only dreamt of putting words to music or are looking to kickstart your songwriting juices, Creative Genius offers a supportive atmosphere in which to do so! 
You'll learn how to: 
Learn to "quiet" the inner critic. 
Discover your "authentic voice" as a songwriter. 
How to streamline lyrics and melodies and find "the hooks" within your songs. 
How to deal effectively with performance anxiety.
How it works: 
The group will meet each week in a red-brick row house in downtown Hamilton that has inspired  creativity with its warm acoustics. 
Song prompts are handed out each week. They are simple and inspiring to way to kickstart a solid idea. You'll return to present your new ideas to a small, supportive group of like-minded writers using a microphone and amp in a performance setting. 
You'll have a one-hour private mentoring session with Lori. She will gently critique your songs and positively suggest how to improve what you've created. 
The finale of the workshop will be a "live gig"  Hamilton.  You will showcase your new songs to family, friends, and the general public! 
Whether you play an instrument or not, for all ages and levels, from the absolute beginner to the seasoned songwriter! 
*COST:  email for info 
We are located near Hess Village, on the transit line. Green P parking is across the street.